CRUISE THE DANUBE AND PLAY RENOWNED GOLF COURSES IN HUNGARY, SLOVAKIA, AUSTRIA AND THE CZECH REPUBLIC
Budapest - Bratislava - Vienna - Wachau Valley - Linz - Salzburg - Passau - Vilshofen + Prague

September 18 – October 1, 2020 (14 days)

Explore the beauty, culture and history of the Danube on the MS AmaViola and enjoy six great rounds of golf at some of the top courses of the region, including the Penati Golf Course in Senica, Slovakia, and the Fontana Golf Course in Vienna, Austria.
Itinerary
Day 1: Friday, September 18 / Canada — Budapest
We board our overnight flight to Budapest.
Day 2: Saturday, September 19 / Arrive in Budapest
Upon arrival in Budapest, we transfer to our hotel and check in. We'll gather for a Welcome Drink and overview of our Danube Golf Tour with Golf Pro Ryan Anderson. (D)
Day 3: Sunday, September 20 / Budapest
The spectacular city of Budapest offers tremendous culture, tradition, and an air of myth and mystery. We take a Panoramic Tour of both the Buda (hill) and the Pest (flat) sides of the river, beginning with the Great Market Hall. We'll see Heroes Square and Castle Hill, home to the Royal Palace; the Fisherman's Bastion, which enjoys a splendid view of the twin cities of Buda and Pest spread over both banks of the River; and Mathias Church with its richly painted interior. (B, D)

Budapest Fisherman's Bastion
Day 4: Monday, September 21 / Embarkation Budapest
This morning we enjoy our first round, at one of the country's best golf courses.
This afternoon we embark upon our sevennight luxury Danube journey with an Evening Illumination Cruise to enjoy the city's shimmering riverfront.
The Gryphon Trio, Roman Borys, Dr. Jamie Parker and Annalee Patipatanakoon will be accompanying the tour as musical hosts, performing as part of the Danube Concert Series arranged in cooperation with Artistic Director George Zukerman, OC, OBC. (B,D)
Day 5: Tuesday, September 22 /Bratislava
The "Coronation City of Kings" saw 11 Hungarian kings and queens crowned between 1536 and 1830. We'll enjoy a brief Tour of Bratislava en route to Penati Golf Course. (B,L,D)

Penati Golf Course
Day 6: Wednesday, September 23 / Vienna
We'll experience the regal elegance of Vienna on a City Tour which will take us by the majestic Opera House and Hofburg Palace, the former Imperial Palace of the Habsburg Emperors. We conclude our tour in Vienna's stately and historic city center, which is a UNESCO World Heritage Site. During the afternoon, enjoy leisure time to further explore this iconic city. (B,L,D)
Day 7: Thursday, September 24 / Vienna
While the golfers face the challenge of the exceptional course nearby, the non-golfers can enjoy a day at leisure in the "City of Waltzes".
Numerous options await those wishing to explore Vienna. There is a wealth of monumental buildings, historic sites and famed institutions.
Perhaps visit some of its museums, an art exhibit at the Belvedere, or the Spanish Riding School at the Hofburg. Stroll cosmopolitan Kartnerstrasse and enjoy a slice of Sacher torte, or seek out the city panorama from the Prater Ferris wheel.
Explore the Ringstrasse, Vienna's ring road lined with majestic buildings, monuments and parks.
Maybe make a trip to Schoenbrunn Palace, where a six-year-old prodigy named Mozart gave his first concert, for the indomitable Holy Roman Empress Maria Theresia 258 years ago. (B,L,D)

St. Stephen's Cathedral
Day 8: Friday, September 25 / Duernstein — Weissenkirchen
Weissenkirchen is gateway to historic Duernstein in the heart of the famously beautiful Wachau Valley. Upon arrival, we'll enjoy a Walking Tour of the city's landmarks and visit a local vintner to taste the wine for which this region is known and sample special apricot treats from a local boutique. The cobblestone streets of this quaint 16th-century town are overlooked by ruins of a castle where, according to legend, Richard I "The Lionheart" was imprisoned and held for ransom on his return from the Crusades. Later in the day, we sail through the Strudengau Valley to medieval Grein, above which Greinburg Castle has been imperially perched for over half a millennium. (B,L,D)

GettyImages-657659270
Day 9: Saturday, September 26 / Linz — Salzburg
We'll enjoy a brief orientation Tour of Linz en route to the Golf Club Linz St. Florian.
Non-golfers can explore the historic town or possibly join an excursion to Salzburg, the birthplace of Mozart and setting for the Sound of Music. We'll enjoy a Tour of Salzburg's lovely historic centre, Mirabell Gardens, Residenz Square and the Old Market.
There are also optional excursions including a bike tour of the city's famed "Cultural Mile" and the Danube. We'll reconvene aboard ship in Linz for dinner. (B,L*,D)
*Lunch may not be included when opting for full day excursions.
Day 10: Sunday, September 27 / Passau — Vilshofen
The fairytale city of Passau, the 'City of Three Rivers,' was founded more than 2,000 years ago at a strategic junction of the three waterways.
On our Walking Tour we will see the city fortifications and marvel at Gothic and Italian Baroque architecture and St. Stephen's Cathedral, home to Europe's largest pipe organ. A scenic cruise then transports us to the charming 1200-year old town of Vilshofen, on the confluence of the rivers Vils and Danube.
Vilshofen's beautiful old town, located directly on the banks of the Danube and the Vils, when seen from the river resembles a floating peninsula.
Above the town, the imposing double towers of the Benedictine Abbey Schweiklberg dominate the landscape. (B,L,D)

Passau
Day 11: Monday, September 28 / Disembarkation — Prague
We bid farewell to our ship at Vilshofen today.
After disembarkation, we proceed to Prague via Pilsen, where we'll have a brief Tour and lunch at the Brewery. Once in Prague, we'll enjoy an Orientation Tour of the city with a walking tour of the St. Charles Bridge and Old Town, before
check-in and dinner. The lively pedestrian-only Charles Bridge draws visitors, musicians and artists. Prague's Old Market Square is a UNESCO World Heritage Site instantly recognizable for its famous Astronomical Clock and distinctive spiky towers. The artisan traditions of Bohemia are evident in Prague's colourful architecture, theatre, arts and gastronomy. (B, L, D)
Day 12: Tuesday, September 29 / Prague
We enjoy a day trip to Karlstejn with a Tour of the Castle and a round of golf at the notable course, which offers splendid views of the castle. (B, D)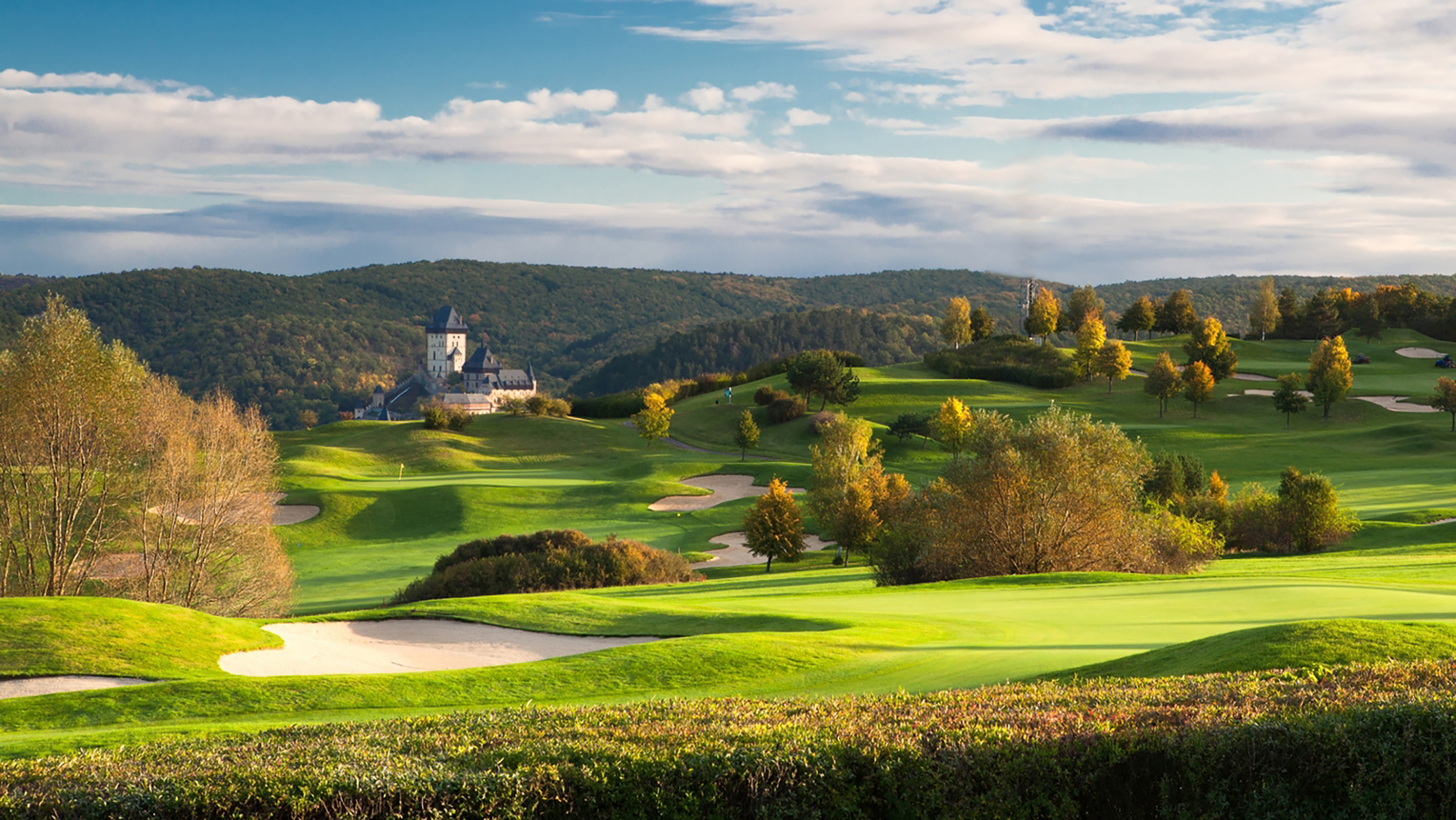 Karlštejn Castle The Czech Republic
Day 13: Wednesday, September 30 / Prague
The continuation of our Prague city Tour starts at the 1000-year-old Prague Castle, residence of the head of state, and St. Vitus Cathedral, in all its Gothic glory. From the castle's hilltop situation you can enjoy a panoramic view of the city's domes, spires and red roofs. Both Kafka and Neruda lived in the picturesque lanes which lead down to the town below. Then we head for our final round of golf, followed by our farewell dinner. (B, D)

Polina Podlesnaya
Day 14: Thursday, October 1 / Prague — Canada
We transfer to the airport for our flight home. (B)