Tahiti – Huahine – Cook Islands – Bora Bora – Taha'a – Moorea 

January 13–24, 2024 (12 days)
Highlights: 

✔ Discover the charms of the South Pacific in the Society Islands and Cook Islands on a luxury ship with Polynesian flair – the intimate m/s Paul Gauguin.

✔ The secluded "Garden Island" of Huahine, with its lush rainforests and crystal-clear lagoons; a memorable day on Motu Mahana, Paul Gauguin Cruises' own private slice of paradise; magical and rugged Moorea.

✔ The incredibly clear waters of the Aitutaki lagoon and the magnificent silhouette of Rarotonga in the Cook Islands.

✔ Two full days in the quintessential Pacific paradise of Bora Bora; marvel at towering Mount Otemanu, snorkel in sapphire lagoons, or get a bird's-eye view of the island with a scenic helicopter ride.

✔ Enjoy the Romantic music delights of Gauguin's time such as Saint-Saëns, Debussy and Bizet with your hosts, violinist Kai Gleusteen and pianist Catherine Ordronneau. 
Itinerary
Day 1 / Sat, Jan 13: EMBARKATION IN PAPEETE, TAHITI
The largest of French Polynesia's 118 islands, Tahiti is also known as "the Queen of the Pacific". Its capital city, Papeete, is the perfect place to begin your South Pacific sojourn.
Afternoon embarkation on the m/s Paul Gauguin, your home for the next 11 nights. Sail through French Polynesia's Society Islands and explore the Cook Islands. This voyage offers multiple days on some of the South Pacific's most desirable islands, and the opportunity to experience each port to the fullest, at your own pace or enhanced by a wealth of à-la-carte excursions.
In the evening, join your hosts Kai Gleusteen & Catherine Ordronneau for a welcome drink and introduction to your South Pacific Concert Series. Dinner on board. (D)
Day 2 / Sun, Jan 14: HUAHINE
Full day in the laid-back, secluded island of Huahine, where many treasures are hidden among the lush rainforest and dramatic terrain. Discover some of the best-preserved archeological sites in French Polynesia or the lagoon's underwater treasures. (B,L,D)
Day 3 / Mon, Jan 15: AT SEA
During this full day at sea, Les Gauguins and Les Gauguines are at the ready to share their Polynesian culture, with Tahitian dance lessons and hands-on traditional craft demonstrations. You might also want to take in a lecture by one of PG Cruises' special guests, take part in a cooking lesson with the executive chef, unwind poolside or treat yourself to a visit to the Deep Nature Spa. (B,L,D)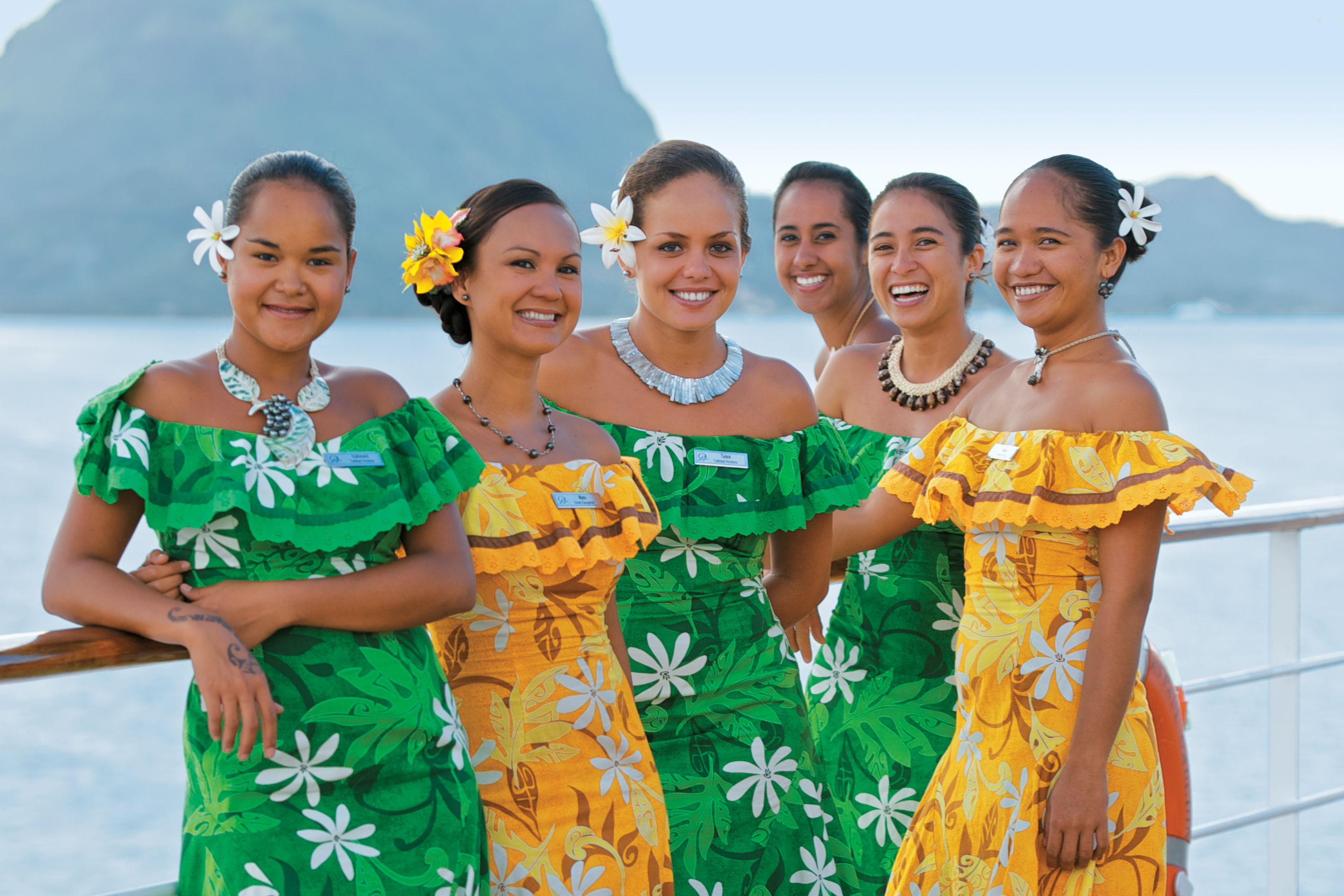 Day 4 / Tue, Jan 16: AITUTAKI, COOK ISLANDS
A wealth of cultural tradition, Aitutaki's inhabitants keep their history alive through song, dance, legends and crafts. Why not take the easy hike to the highest peak on the island, Maunga Pu, where you will be rewarded with 360-degree views? Or join an optional excursion to One Foot Island in Aitutaki's stunning blue lagoon. (B,L,D)
Day 5 / Wed, Jan 17: RAROTONGA, COOK ISLANDS
Rarotonga is the hub of the Cook Islands, yet remains totally unspoiled. Enjoy a guided tour with the famous Pa, visit the cultural village or rent a scooter for a drive around the whole island. (B,L,D)
Day 6 / Thu, Jan 18: AT SEA
Enjoy another full day at sea. (B,L,D)
Day 7 / Fri, Jan 19: BORA BORA
Indulge in two full days on Bora Bora, a volcano set on one of the most beautiful lagoons in the world, populated with myriad fish and multi-coloured corals. Explore its lush peaks, wander white-sand beaches lined with coconut trees and marvel at the iconic views of Mount Otemanu. (B,L,D)
Day 8 / Sat, Jan 20: BORA BORA
For your second day on Bora Bora, choose from a wide range of water-based or land excursions, or spend your time relaxing on Paul Gauguin Cruises' private beach. (B,L,D)
Day 9 / Sun, Jan 21: TAHA'A
Morning arrival in Taha'a, a tranquil island known for its numerous vanilla farms. Choose between a variety of optional shore excursions, or spend the day on Motu Mahana, Paul Gauguin Cruises' own private islet featuring Polynesian hospitality, a delicious feast, swimming, snorkelling, kayaking, or simply lounging on the beach. Les Gauguines will also share musical entertainment and Polynesian crafts. (B,L,D)
Day 10 / Mon, Jan 22: MOOREA
Enjoy two days in beautiful Moorea. Said to be the inspiration for James A. Michener's novel South Pacific, as well as the Rogers & Hammerstein's musical tribute, Moorea hypnotizes with multi-hued lagoons, lush landscapes, mountain peaks, quaint villages and pineapples, which are said to be the most delicious in all of French Polynesia. (B,L,D)
Day 11 / Tue, Jan 23: MOOREA
Second day on "the Magical Island" of Moorea, where a variety of optional excursions are on offer, including island tours, bike tours, snorkelling, diving, scenic flights and more.
In the evening, join Kai Gleusteen, Catherine Ordronneau and fellow cruise passengers for a farewell cocktail party on board. (B,L,D)
Day 12 / Wed, Jan 24: DISEMBARKATION IN PAPEETE, TAHITI
Disembark in Papeete after breakfast. (B)