MADABA – NEBO – PETRA – WADI RUM
DEAD SEA – JERASH – AMMAN
February 4 – 9, 2020 (6 days)
Itinerary
Day 1 / Tuesday, February 4 / Cairo — Amman — Madaba — Nebo — Petra
After clearing airport customs we drive to the Christian village of Madaba to see the ancient mosaic map of the Holy Land. Then on to Mount Nebo from which Moses viewed the Promised Land. We'll continue via the King's Highway to Petra for dinner and overnight. (B,D)
Day 2 / Wednesday, February 5 / Petra
Petra is best approached walking from the Visitors Centre to the Treasury via the "Siq" (around 2 km.)
PETRA
The ancient city of Petra was built from 800 BC to 100 AD by Nabatean Arabs. In this era Petra was a fortress, carved out of craggy rocks in a virtually inaccessible area. In the first and second century, after the Romans took over, the city reached the peak of its fame. Petra covers an area of about 100 square km, comprising over 800 monuments.
As shipping slowly displaced caravan routes, the city's importance gradually dwindled; it fell into disuse and was lost to the world until1812, when it was re-discovered by the Swiss explorer Johann Ludwig Burckhardt.
Today Petra is Jordan's number one tourist attraction, known as the "rose-red city half as old as time". The Khazneh (the Treasury), starred in Indiana Jones and the Last Crusade.
We walk out and then return to our hotel. (B,D)

Petra Treasury
Day 3 / Thursday, February 6 / Petra — Wadi Rum — Dead Sea
This morning we will visit Wadi Rum, also known as the Valley of the Moon. We'll explore the surreal, vast landscape of Wadi Rum by Jeep. We'll see the rose-tinted mountains and spectacular desert vistas where T.E. Lawrence (Lawrence of Arabia) lived with his Bedouin friends and allies during World War I. The Wadi is still home to a number of Bedouin families, and the camps can be seen. We'll proceed at last to the remarkable Dead Sea for the night. (B,D)

Wadi from Mt Rum Jabal Ramm
Day 4 / Friday, February 7 / Dead Sea
Take advantage of the high salinity of the Dead Sea to float and enjoy this unique place. (B,D)
Day 5 / Saturday, February 8 / Dead Sea — Jerash — Amman
This morning we will visit the wonderfully preserved Roman city of Jerash, known as the Pompeii of the East. There we'll see the Elliptical Forum, the street of columns, the Temple of Artemis and Roman theatres.
Then we drive to Amman for a City Tour.
Occupied since Neolithic times, the capital is considered amongst the world's oldest continuously inhabited places. It became a vital stop on the King's Highway, the ancient trade route connecting Egypt with Mesopotamia, Syria and Anatolia. Serially conquered throughout its history, the city has incredible archaeological potential. Ammonite, Assyrian, then Persian, the city was conquered by the Greeks in 331BC and renamed Philadelphia. 300 years later it fell to the Romans, then Byzantium, and a series of Islamic rulers followed. Rising 132 meters above the city centre we'll see the Citadel which features a Roman Temple of Hercules, Byzantine church, the Umayyad Palace and cistern, and 13thc Ayyubid watchtower. (B,D)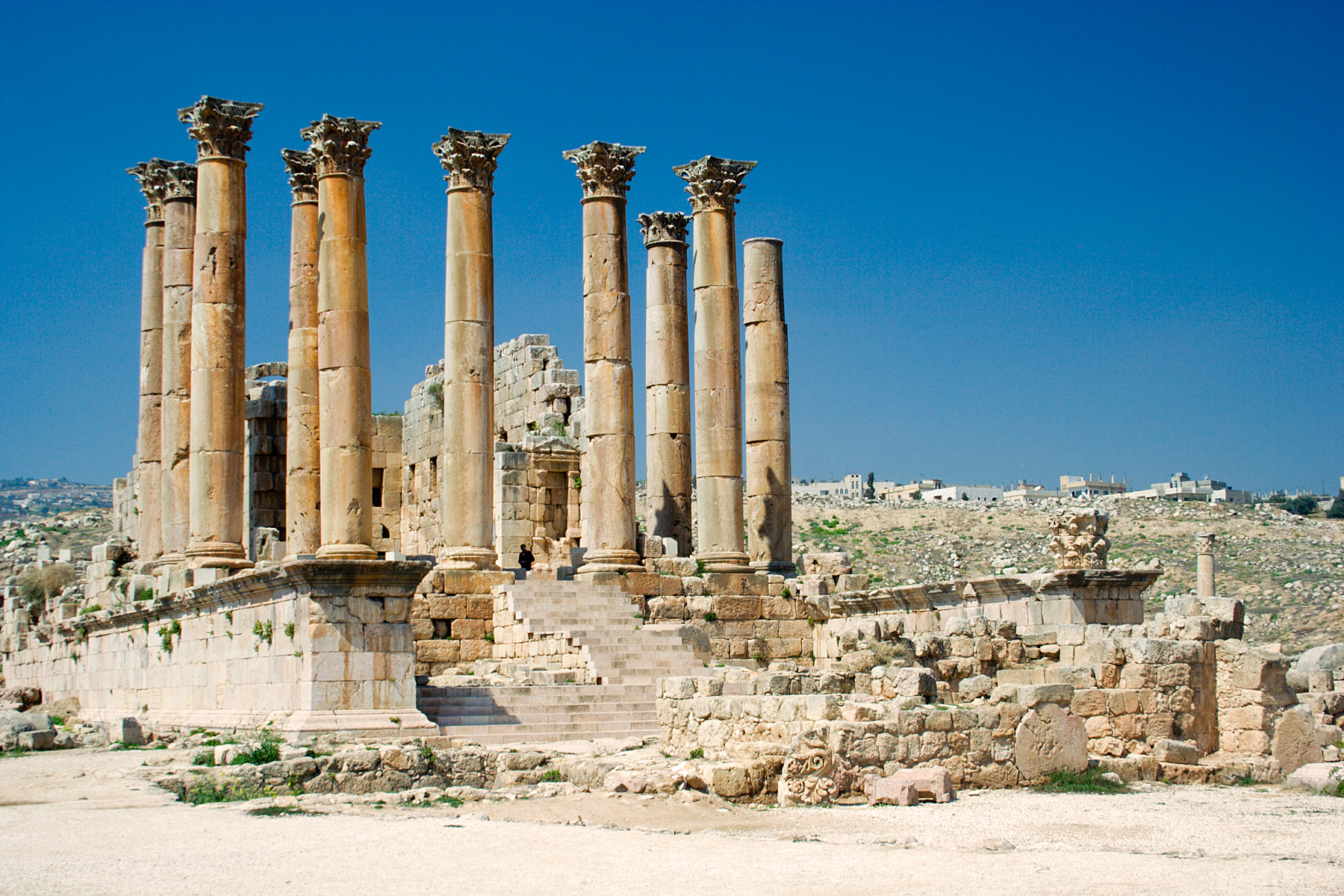 Jerash Temple of Artemis
Day 6 / Sunday, February 9 / Amman — Canada
Transfer to airport for our flight home. (B)