October 6–14, 2021 (9 days)
Highlights:

✔ Explore one of the world's greatest cultural capitals and enjoy performances at the city's greatest concert halls, including the Musikverein and Vienna State Opera.

✔ Private concerts by your hosts, violinist Kai Gleusteen and pianist Catherine Ordronneau, in the intimate settings of the iconic Hotel Bristol and the Mozarthaus.

✔ Accommodation at Vienna's iconic Hotel Bristol, located in the historic centre beside Vienna State Opera and a mere five-minute walk from the Musikverein.

✔ Gery Valtiner, Special Travel International's Program Director, will lead this classical adventure to his homeland. Group size will be limited to 30 people for a personalized experience.
Itinerary
Day 1 / Wed, Oct 6: DEPART CANADA
Day 2 / Thu, Oct 7: ARRIVE VIENNA
After arrival in Vienna, transfer to Hotel Bristol, an art deco gem opened in 1892 and a living example of Viennese charm and personalized service. This historic hotel will be your home base for the week.
After some time to settle into your room and relax, join your host Kai Gleusteen for a welcome drink and introduction to your Vienna Concert Series, followed with dinner. (D)

Lobby of Hotel Bristol, Vienna
Day 3 / Fri, Oct 8: VIENNA
Start your exploration of the Austrian capital with an orientation tour.
See the highlights of the Ringstrasse and UNO City, one of the four official headquarters of the United Nations. Lunch at one of Vienna's traditional cafes.
Enjoy a 2-hour guided walking tour through the Inner City, past St. Stephen's Cathedral and other landmarks. Tonight, proceed to the Musikverein for the first of your concerts. (B,L)
— CONCERT —
Concert at the Musikverein (programme to be confirmed)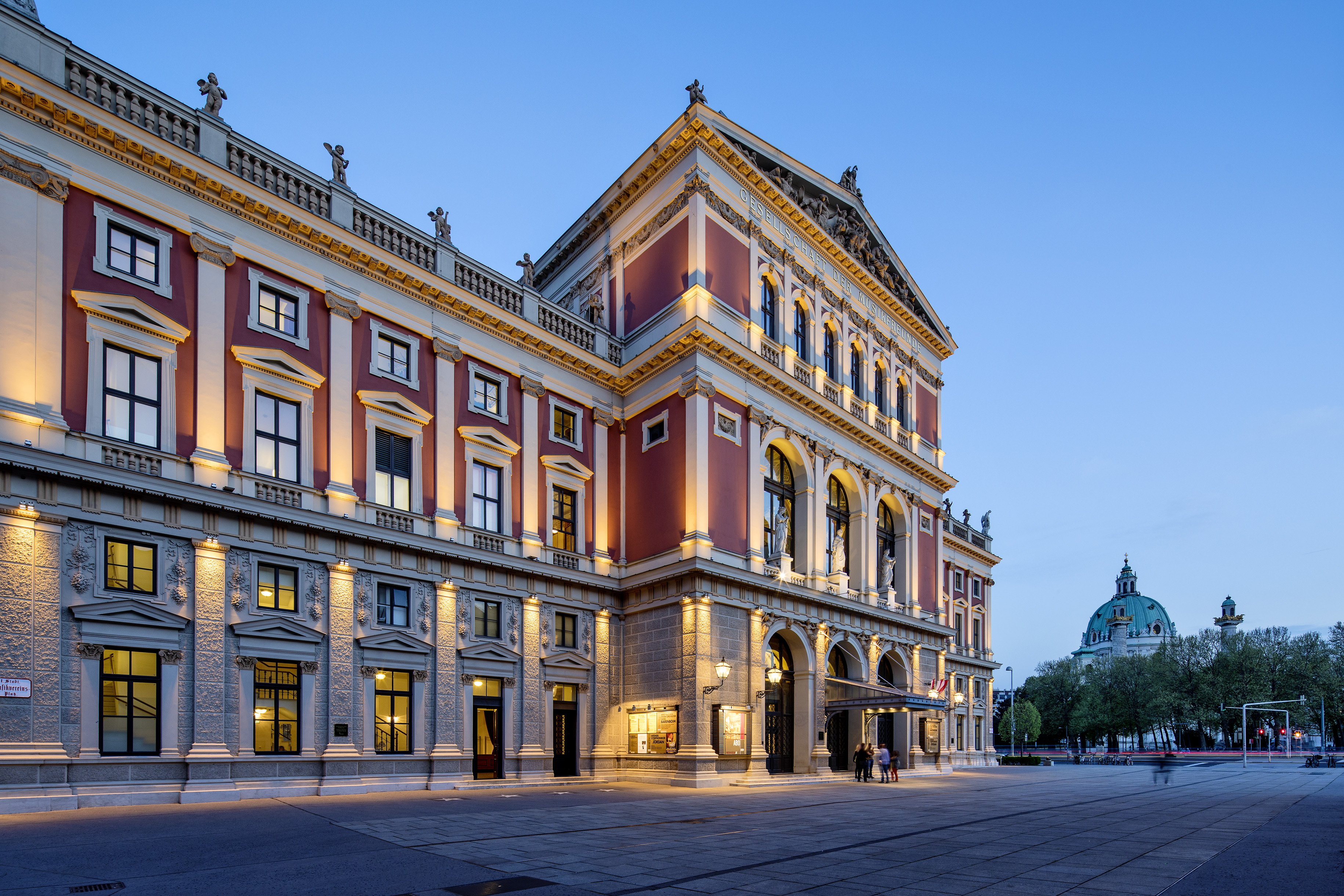 Musikverein, Vienna © Christian Stemper, WienTourismus
Day 4 / Sat, Oct 9: VIENNA
Embark on a guided tour of the Great Hall of the Musikverein, widely considered to be one of the finest concert halls in the world, thanks to its superb acoustics. Continue to the Haus der Musik, an interactive museum dedicated to the world of sound.
This afternoon, proceed to Vienna Zentral Friedhof, the second largest cemetery in the world and resting place of famous musicians such as Beethoven, Brahms, Schubert and Strauss. Return to the hotel to rest before tonight's dinner and concert. (B,D)
— CONCERT —
Private concert with Kai Gleusteen (violin) and Catherine Ordronneau (piano) at Hotel Bristol

Kai Gleusteen & Catherine Ordronneau
Day 5 / Sun, Oct 10: VIENNA
Morning concert with the Vienna Boys Choir at the Hofburgkapelle.
— CONCERT —
Concert at the Hofburgkapelle with the renowned Vienna Boys Choir
This afternoon, enjoy a brief walking tour of the historic centre with its narrow streets and hidden courtyards. End with a visit to the Mozarthaus, the composer's residence from 1784 to 1787. In this very special setting, enjoy a private concert by your hosts. (B,D)
— CONCERT —
Private concert with Kai Gleusteen (violin) and Catherine Ordronneau (piano) at the Mozarthaus

Vienna Boys' Choir © Lukas Beck, WienTourismus
Day 6 / Mon, Oct 11: VIENNA – EISENSTADT – VIENNA
Full day excursion to Eisenstadt. Discover the grand Esterházy Palace, where classical composer Joseph Haydn spent much of his career as a court musician. Visit the Haydn Mausoleum in the nearby Bergkirche.
Return to Vienna for some time at leisure. Walk to the celebrated Hotel Sacher for dinner, including a slice of their famous Sachertorte, before an evening at the opera. (B,L,D)
— PERFORMANCE —
Opera at the Vienna State Opera (programme to be confirmed)

Haydnsaal in Esterházy Palace, Eisenstadt
Day 7 / Tue, Oct 12: VIENNA
This morning, visit Schönbrunn Palace, main summer residence of the Habsburg rulers, inextricably linked to Empress Maria Theresa.
Afternoon at leisure to further explore Vienna on your own. You may wish to visit the Art History Museum, the Belvedere or the Albertina, or one of the renowned museums in the Museum Quarter. (B)
— OPTIONAL PERFORMANCE —
Optional performance at the Wiener Konzerthaus, Volksoper or similar

Vienna Symphony Orchestra, Vienna Konzerthaus © Peter Rigaud, WienTourismus
Day 8 / Wed, Oct 13: VIENNA – VIENNA WOODS – VIENNA
Today travel to the Vienna Woods and visit the monastery of Heiligenkreuz. Take part in the noon hour chants of the monks, before enjoying lunch at the monastery's restaurant.
After lunch, drive through the St Helena Valley to nearby Baden, long a refuge for the Viennese nobility. Enjoy a walking tour of the lovely Biedermeier town centre, as well as an exclusive visit to the Beethovenhaus, where the composer spent his summers between 1821 and 1823 and wrote substantial parts of the 9th Symphony.
Return to Vienna for your farewell dinner. (B,L,D)

Heiligenkreuz Abbey © Volker Preusser, Austrian National Tourist Office
Day 9 / Thu, Oct 14: DEPART VIENNA – ARRIVE CANADA
Transfer to Vienna International Airport for your flight(s) home. (B)