NIFA in Amsterdam
Special Travel International is proud to have been working with NIFA for 30 years. Enabling indigenous soccer players and their families to combine soccer and travel has been the goal of this cooperation. Over the years, seeing many youngsters grow – as soccer players and individuals – has been a special journey. We want to dedicate this travel newsletter to their story, our indigenous friends from Canada. Together we work to bridge gaps and create understanding through an exchange of cultures.
The Native Indian Football Association (NIFA) is based in Vancouver Island, BC. It is the fruit of decades of work by Dano Thorne, its main founder and head coach and member of the Cowichans, one of the largest bands of the Coast Salish. He has been supported by numerous people along the way, especially Bill Wasden, an elder from Alert Bay who has been part of NIFA from the start.
Dano Thorne at the 2015 World Indigenous Games, Brazil
And I – Gery Valtiner, from Special Travel International – am dedicated to making travel affordable for the NIFA groups. From the days when I studied Ethnology (a branch of Anthropology) in Vienna, Austria, my interest in indigenous cultures from around the world has been part of my life. Since meeting Dano for the first time in the early 90s, I have managed to combine my and our company's expertise in travel with my personal interest in Native culture. Whenever we put together tours for Europeans visiting Canada, we also try and bring Native elements to the travel itinerary.
Dano Thorne (left) and Gery Valtiner (right), setting up tournament with Arian Hoxha from Rush Soccer Hawaii, 2014
Since its beginnings in the early 90s, Dano Thorne has had a vision for NIFA and its program. He wanted to (in his own words, and the mission statement of NIFA) "promote a holistic approach, addressing mental, physical, emotional and spiritual well-being of players as they strive to reach their potential." Soccer and culture are key elements of his vision as he wants to bring Native players from communities across Canada closer to levels on which they can compete with the best in the world. It offers players a chance to dedicate themselves to their sport. It gives them the opportunity to travel on one of the great trips NIFA has been organizing for 30 years to all corners of the globe, enabling players to learn about other countries, compete against teams from various cultures and ultimately also learn about themselves. What an expansion of one's horizon, when you live in a small community in Northern BC, and end up representing your culture and walking through historic cities halfway around the world! Taking over 150 travellers to Hawaii and Cuba were some of the largest soccer travel projects of the last years.
Many highlights over the years validate the road which Dano has taken NIFA on. At the very top ranks the Gold Medal in the 2015 First World Indigenous Games in Palmas, Brazil. Over 2,000 athletes from 20 countries came together to compete in various sports in the city in the Amazon jungle. And NIFA's female soccer team came away with a top price, after a shootout in the final in front of 15,000 spectators. Enjoy the official
4-minute clip
showing the exhilarating experience of the young ladies from various Canadian indigenous communities.
NIFA in Brazil, 2015
Playing in Cuba against the female National Team in 2014 also ranks as a special highlight in the history of NIFA and on the last trip to Cuba, in April 2019, a special documentary was being filmed. Please
click here
to watch it. The story starts with the focus on two young ladies who have been part of NIFA for some years now. It tells of endurance, hardship and dedication and is representative for many of the young players who are a part of the NIFA family. Over the period of almost a year, Keisha and Alexandra gave their time, had Dan and Asia (who produced this video) follow them with cameras to tell their story. It is a very human and personal look at the life of the two players. The ending of the documentary is the 10-day experience in Cuba, playing in Matanzas near Varadero against some local teams, and then in Habana against a good selection from the country capital. The documentary was supported by TELUS for their Storyhive programme and the 20-minute clip is one that should be watched by Canadians who want to learn more about how hard people in Indigenous communities work to succeed in the sport.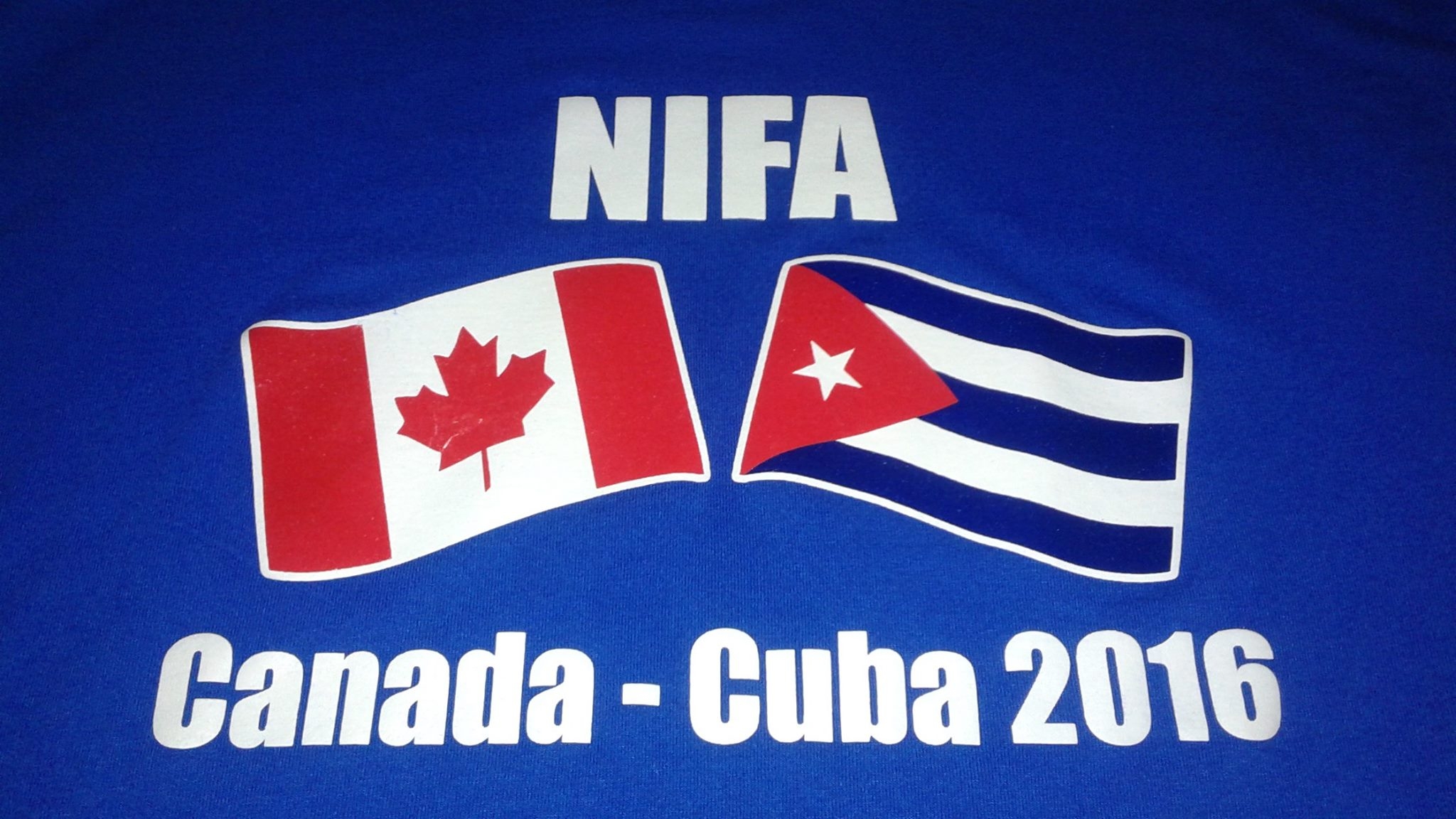 Canada – Cuba 2016
NIFA, without official sponsoring or government monies, is a story of dedication by its founders, especially Dano Thorne, who is putting his heart and soul into NIFA and created this sports family for many youngsters and their families out there. Travelling across the country, especially in BC, on his own time and money, he loves to see young players from communities with less access to the opportunities offered in larger cities, have a chance to expand their horizons, and further their skills in soccer. It has been and is a struggle. Coaches and community leaders help, and families sometimes travel 10 hours or more to attend soccer camps, held to bring players together. Parents who want their youngsters to have opportunities spend their own time and money to open these doors for their children and to keep them on a good path.
NIFA and Habana, Cuba selection in 2019
The following trips were planned but have fallen victim to the coronavirus. A trip to Europe in August 2020 will be postponed and will see them travel and play in The Netherlands, Germany, Austria and Northern Italy. About 100 players and their families were scheduled to attend incredible fundraising efforts were made in communities across BC to help this journey become a reality.
In October 2020 a male and a female NIFA soccer team were to travel to Rio de Janeiro, Brazil, to defend the title at the World Indigenous Games – a title which was won by the NIFA select team for Canada's indigenous population in Brazil in 2015 and defended in Edmonton in 2018.
Click here
to watch the 4-minute clip of the First World Indigenous Games in Palmas, Brazil in 2015.
Click here
to watch the 20-minute Telus Storyhive documentary following two NIFA players in 2019.
On the Horizon for 2024-25
Travel the world with like-minded people, and discover how much shared enthusiasm increases your enjoyment of experiences tailored to your interests. All while you enjoy all the comfort and reassurance of traveling in a group. We believe in making extraordinary memories with friends, exceptional service and ethical business conducted with proven local partners.
Special Travel crafts unique tours for choirs, sport teams and many other special interest groups.
Contact Email
CLASSICAL MUSIC PLATFORM
Find out more about our artists and Classical Music partners
Click Here
Featured Experiences
Featured Stories